TOPEKA — Republican Gov. Sam Brownback is embracing a $38 million increase in state aid for poor Kansas school districts ahead of a special session of the Legislature.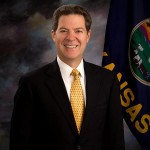 Brownback issued a proclamation Wednesday calling lawmakers back to the Statehouse on June 23 to respond to a state Supreme Court order last month on education funding.
He said during the news conference that he's looking for legislators to meet a single day to fashion a plan for providing the extra dollars to poor districts.
But he also said he's willing to consider a variety of ways to raise the funds that include shifting it from other pots of aid for public schools. He said he's willing to consider education policy proposals to help gain support for the additional aid for poor districts.
Kansas Legislature's session to cost at least $43K per day
A state official says the Kansas Legislature's special session on education funding will cost at least $43,000 a day.
Legislative Administrative Services Director Thomas Day said Wednesday that lawmakers' salaries and expense payments will be most of the cost. He said the Legislature would operate with a skeleton staff.
Brownback called a special session that will begin June 23 to respond to a state Supreme Court order last month.
The court rejected changes in school finance laws made earlier this year. It warned that schools will not be able to open after June 30 unless legislators make the education funding system fairer to poor districts.
When lawmakers are in session, they receive $88.66 in salary and $140 for expenses each day, for a total of $228.66.