Gov. Sam Brownback announced late Tuesday morning that he will call back the legislature to Topeka for a special session on school funding.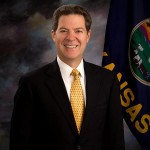 "After discussion with Legislative Leadership, I have decided to call a special session to keep Kansas schools open, despite the Court's threat to close them," Brownback said in a press release. "It is distressing that the Kansas Supreme Court has put the schools and legislature of Kansas in this position over less than 1 percent of school funding.
"I will do everything I can to keep this session focused on education. I am working to arrange the particular dates of the session, which will occur later this month."
On May 27 the Kansas Supreme Court rejected changes made by legislators earlier this year and said the school finance system remains unfair to poor districts. The justices gave lawmakers until June 30 to fix the remaining problems or face having schools remain closed.
Local legislators in Manhattan were hoping a special session on the issue would be called for when they spoke with KMAN last week.
Sen. Tom Hawk of Manhattan was one of several lawmakers who signed a petition Monday urging Brownback to call for such a session. Hawk, one of the few Democrats in the statehouse, told KMAN Tuesday following the governor's announcement that he's ready to get back to work.
"I wanted to make sure that the governor did call it," Hawk said. "I was disappointed we didn't work on it when we were in there for Sine die on June 1 — I thought that would've been a good time to extend (the session) and just fix it and that didn't happen.
"I thought that the governor should have immediately said we will be back on June 15 or June 20 and have a special session. When he didn't do that, I was pleased that two of my Democratic colleagues put together a petition and found out that with two-thirds of the legislators doing that, we could demand that the governor call the special session, so I signed that petition yesterday."
Hawk said he'd still like to know exactly when the legislature will reconvene.
"What I'm still disappointed in is that he hasn't picked a date yet," Hawk said of the governor. "I hope he's not thinking about doing something in July, because that will put a lot of our school districts in a difficult situation."
Manhattan High School principal Greg Hoyt took issue with Brownback's "1-percent of school funding" claim on Twitter, where he retweeted State Senator Laura Kelly, who disagreed.
Despite Gov's insistence Court's quibbling over 1% of school finance, it's really 25%. Total spending=$4B; LOB=$1B https://t.co/s7ztKkuo0Y

— Laura Kelly (@SenatorKelly) June 7, 2016