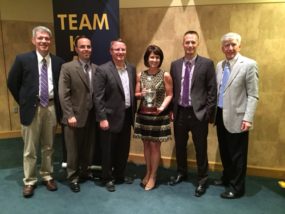 CivicPlus received the Governor's Award of Excellence Wednesday night at the 44th Annual Awards Banquet for Team Kansas on the Washburn University campus.  The event, which  a program under the Kansas Dept. of Commerce, was held to recognize the very best businesses in the State of Kansas.
There were 84 business nominees from across the State which was reduced to 5 finalists who were all honored.  The award was presented to CivicPlus by Lt. Governor Jeff Colyler.
CivicPlus is a cloud-based solutions company, based out of Manhattan, working with local governments to deliver smart solutions, responsive services, support and unique insights.  Operating in all 50 states, Canada and Australia, CivicPlus supports more than 2,000 government organizations of all sizes.