Riley County commissioners were updated on the latest EMS statistics on Country Stampede Monday morning.
The annual Country Stampede music festival began Thursday and wrapped up Saturday night. This is the first year the festival opted to end on Saturday night rather than Sunday.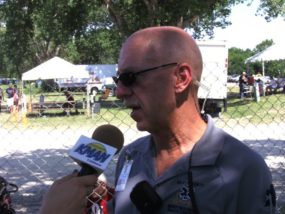 Riley County EMS director Larry Couchman told commissioners the shortened event resulted in slightly fewer patients, but some numbers were still up.
"EMS saw 92 patients, compared to 104 last year," Couchman said. "So that number's down, but consider that that's one less day of statistics.
"I would call it an average year for us for the type of patients we saw, with a couple exceptions. We saw what I felt was a higher percent of sicker patients, which resulted in more ambulance transports."
Couchman reported that ambulance transports were up with 16 this year. There were just 8 last year and 13 in 2014. He also said there was one possible sexual assault and some injuries — such as a couple broken collarbones — were due to fights.
Couchman also cited an incident with one patient that involved prescription medication.
"There was an emotional time — I don't know… a breakup or a fight or an argument — and (the patient) took a prescription drug and had been drinking fairly heavily," he said. "It was a high quantity — it wasn't just that they took one or two pills. They emptied the bottle."
But considering the event brings tens of thousands of people to Tuttle Creek State Park, Couchman said the festival went well and cited favorable weather.
"Overall I think it was a very successful stampede," he said.