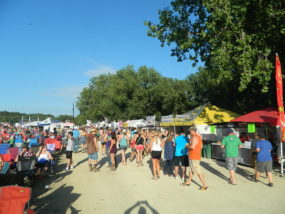 Every June, tens of thousands of fans flock to Manhattan for the annual Country Stampede festival.  And while almost all of them come for the big name entertainment, there are other things for them to do at times when the main stage is quiet.
On each side of the main festival grounds is an area called "vendor row".  At these booths, attendees can find food and beverages, do their banking, check out a new cellphone, and even shop for clothing, hats, boots, sunglasses.  They can get temporary tattoos, a misting fan, and even a stun gun.
But if you're looking for something a little more unconventional…the Stampede has you covered.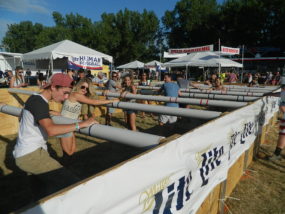 New this year at the Stampede: Human Foosball.  You've seen the table game, now you can step inside the box and give it try in real life.  Game operator Scott Alexander says the rules are simple; you must be over 21 to play, and you must keep both hands on the PVC pipe at all times.
"Somebody had the great idea to put up some OSB (similar to particle board) and some PVC pipes, and try to make it as much like the table game", said Alexander.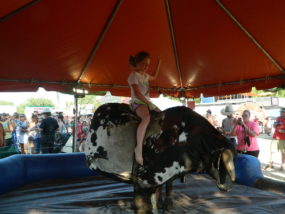 Of course, the Stampede wouldn't be complete without the mechanical bull.  Gracie Hanson, a six year old from here in Manhattan, gave it a try and turned in an excellent ride.  Her secret?  "Just get on…and ride the bull"!  She was rumored to be seen heading back to line a little bit later on, looking for another opportunity to show up her older, and more experienced competition.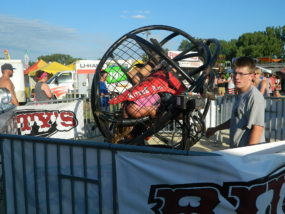 Finally, for those who are extreme adrenaline junkies…with iron stomachs…there's the Gyro Ball.  Riders are strapped in two at a time, and then the ball is turned loose to spin on all three axis'.  13 year old Malia Clemens (from Fort Riley) and her friend Jessica Bennett (from Manhattan), were two such hardy souls.  "I saw other people riding it and I just wanted to ride it", said Clemens.  But when asked for a description of the experience, she deferred.
"I'm still a little dizzy", she said.