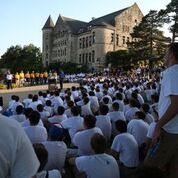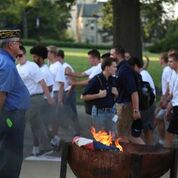 The World War II Memorial on the campus of Kansas State University was the site of a flag retirement ceremony Thursday evening.
The approximately 500 Boys State delegates were in attendance during the ceremony, as well as the honor guard from the American Legion Pearce-Keller Post No.17 in Manhattan, which presented the ceremony. The event is an observance of the proper respect for the American flag and how unserviceable flags are properly disposed.
Dr. John Lindholm, a 1949 KSU graduate, who provided the dog tags as a model for the "Tags of Honor" sculpture at the Memorial, has served Kansas Boys State as a Legionnaire Advisor.
KMAN's Erica Sponberg is covering closing ceremonies Friday at noon at McCain Auditorium, which includes keynote speaker Kansas Attorney General Derek Schmidt.