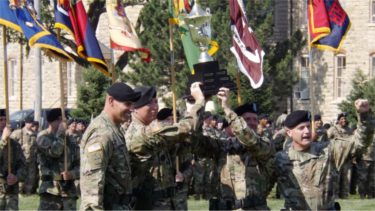 FORT RILEY — The 1st Infantry Division likes to do everything with a bang, and Friday morning was no different on Cavalry Parade Field — especially with the ceremonious cannon fire.
The Big Red One celebrated the end of Victory Week with its Victory Cup ceremony — an occasion that awards the winning battalion following days of various competitive athletic events and also a time for Fort Riley to display traditions well ingrained in its now 99-year history.
"Incredible day," said Maj. Gen. Wayne W. Grigsby, Jr., Commanding General of the 1st Infantry Division and Fort Riley. "It signifies the soldiers, to me. They're our blood and treasure. And we give them a week to compete, do some things and remind our soldiers just what they're about.
"Being a part of a profession of arms, you're about something that's bigger than you. And these soldiers really understand that. They're less than one percent of our country that's giving back. A majority of our country takes, but these soldiers give back with their blood and treasure — they're incredible."
The 97th Military Police Battalion won this year's Victory Cup. The unit competed against others all week in events that included basketball, bowling, softball, soccer, flag football, Danger's Dash, skeet and trap shoot, arm wrestling, a biathlon, fishing and the Warrior Competition. Other sporting events included combative competitions, weightlifting, a tug of war and the Ten-Miler race.
Sgt. Steven Gonzalez of the 1st Infantry Division Sustainment Brigade was awarded Fort Riley's Soldier of the Year while Staff Sgt. Bryan Teneyck of the 97th Military Police Battalion was honored as the post's NCO (non-commissioned officer) of the Year.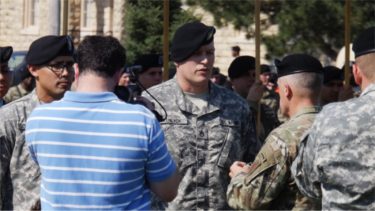 Both were awarded with well over $2,000 in cash and prizes donated by Fort Riley and community members.
"They earned every piece of it," said Grigsby of Gonzalez and Teneyck. "Our blood and treasure is not the tanks, the Bradley's and the helicopters — it's those two American soldiers out there."
This slideshow requires JavaScript.
After those awards and a formal address to troops from Grigsby, onlookers were treated to the pageantry of the ceremony, which included an inspection of soldiers in formation with Grigsby and other leadership on horseback surveying battalions and a "Pass in Review," which had battalions march past Grigsby for further review.
The playing and singing of "The Big Red One Song" and "The Army Song" was led by the 1st Infantry Division Band and the ceremony concluded with the mounted Cavalry Charge and cannon shots — a crowd favorite as the parade field took a trip back in time with horses in full gallop and pistols fired by their riders while the band played the classic "Charge!" music.
It's not every year the commanding general reviews troops on horseback and Grigsby said he enjoyed being in the saddle.
"Great!" he exclaimed. "I love riding. I'm an infantryman. Everybody thought I was going to get rid of the horses when I got here. Oh heck no. They're staying forever."
Grigsby said tradition is important at Fort Riley.
"Tradition and history still counts," he said. "You don't know where you're going if you don't know where you came from, so it's pretty cool."