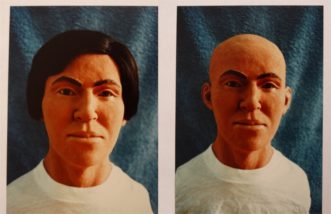 The Geary County Sheriff's Office is looking into a cold case that will require the public's assistance.
On April 2, 1989 skeletal remains were discovered in Geary County on a sandbar of the Smoky Hill River near Grandview Plaza, just south of Interstate 70.  Following the examination of the remains by a forensic anthropologist, it was determined that the remains belong to a white male who was between 36 and 49-years-old at the time of death.
The deceased was approximately 5'5" and died sometime between 1985 and 1989.  The help of a facial reconstruction expert was enlisted who was able to provide a clay molding of what the person looked like prior to death.
It is possible that the remains could have washed down the river, communities west of Geary County are of special interest.
The Geary County Sheriff's Office is seeking the public's help in identifying these remains.  If you have any information regarding this case, contact Lt. Brian Hornaday at 785-238- 2261.