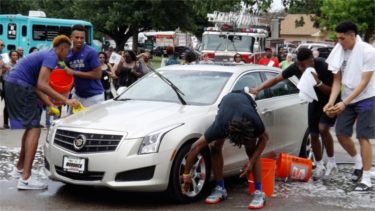 The organizers of Saturday's 27th-annual Juneteenth celebration in Manhattan's City Park knew there would be some people who wouldn't shy away from playing in the water in the middle of a summer afternoon in the heartland.
Teams competed in a car wash contest — with Rose Royce's 1976 hit "Car Wash" playing in the background, of course — and the park wasn't without vendors and community organizations.
Members of the K-State men's basketball team, the Riley County Police Department, the Manhattan Fire Department and a group of local kids participated in the car wash.
The youth team of Kianna and Nakia Smalls, James and Janiya Sylvester, and Daron Franks won the event after a member of the group beat a representative of the RCPD in a dance off.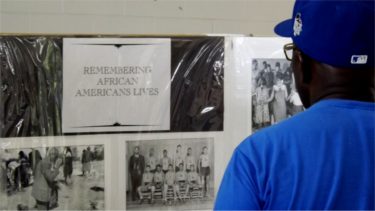 Also sprinkled throughout the day was a talent show and live music at the Ruth Ann Wefald Pavilion and historical displays of African Americans across the nation and in Manhattan inside the air-conditioned GTM Family Center.
It was another busy Juneteenth — an event that celebrates June 19, 1865, when the announcement of the abolition of slavery in Texas and more generally the emancipation of African-American slaves throughout the Confederate South.
The announcement to slaves in Texas that day in 1865 came over two years after President Abraham Lincoln signed the Emancipation Proclamation.
"There's a lot of events that remind you of how it used to be," Juneteenth committee member Dave Baker said Saturday. "And this is to celebrate the end of those things, and that's the positive thing about this."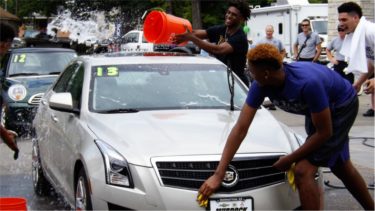 Baker, who is also the director of the Douglass Community Center in Manhattan, grew up in the Little Apple and has a storied baseball career, which, included both playing for and coaching the K-State baseball team.
He also once suited it up for the Kansas City Monarchs.
When it comes to the African American community in Manhattan in 2016, Baker said he's seen progress.
"I believe there's more African American people in Manhattan than there's ever been," he said. "But the big thing that's changed with our community it that we're no longer segregated on the south side of Manhattan — we're all over Manhattan today.
"And a lot of the African Americans that live in Manhattan today aren't originally from here, so there's a lot of history — a lot of things they don't know — so that's one of the beauties and values of continuing to do something like Juneteenth, because we can share that history with people."