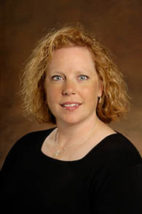 Peggy Schmidt is joining the College of Veterinary Medicine at Kansas State University as associate dean for academic programs and student affairs.
Schmidt has been a faculty member in veterinary education for 12 years, and served as an academic director for nine.
Schmidt currently serves as Director of Outcomes Assessment at Western University of Health Sciences. She is also an associate professor of population health and epidemiology.
Schmidt earned a bachelor's degree in animal science with meat animal emphasis at the University of Wisconsin-River Falls in 1993. She then earned a Doctor of Veterinary Medicine at the University of Minnesota in 1997. After graduating, she practiced as an associate veterinarian at Tri-County Veterinary Clinics in Taunton and Dawson, Minnesota, until 2002. She then returned to college and earned a master's degree in veterinary preventive medicine at the Iowa State University in 2004, also serving as an instructor for its College of Veterinary Medicine.
Schmidt became board certified as a diplomat of the American College of Preventive Veterinary Medicine in 2006. She also earned multiple certifications for instruction in agroterrorism preparedness curriculum in 2005 and 2006 at the University of California.