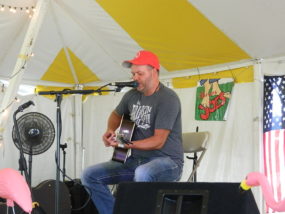 When most people think about the Country Stampede, they think of the big name artists who'll perform all their biggest hits from the main stage.  They think about seeing friends, catching some rays, and eating tasty food.  But all songs start out in the same way; they were put to paper by the often-times unsung songwriters.
All weekend long, fans looking to take a break from the Stampede in shade should check out the Songwriters' Tent.  Between acts on the main stage, several local songwriters will be performing songs they've written.  It could be your first taste of what will be your favorite song in the not-to-distant future.
Travis Martin, a native of Ottawa, Kansas, has been writing songs for eight years.   "More than anything", he said when asked about his songwriting beginnings, it was "probably time to at least share my stories.  And what better way to do that with songwriting".  He overcame some early uncertainty, saying "I didn't know if I was going to be…if I could even do it, because it's obviously not something I think you're necessarily born with (the ability to write a song).  It's learn how to do it".
Martin's fortitude, perseverance, and dedication have brought him to an exciting point in his career; a brand new album with a release date fast approaching.  "The goal is here in the next two weeks, we're going to launch the single which will go to radio.  And within a month we can release the whole album".  Martin wrote four of the six tunes on the disc, with co-writer credit on the other two.
For Savanna Chestnut, the road from her hometown of Americus, Kansas to her current home in Nashville was fashioned from a confidence in her songwriting ability.  "It clicked automatically", she said when asked about why she became a songwriter.  "It was just something that came easy to me and it's something that I'm really passionate about.  I just like to tell stories through songs.
Jackson Gulick is another Sunflower State product, proudly claiming to be "born and raised Kansas" when asked about his background.  Gulick attended Johnson County Community College for a year before he relocated to Nashville to perfect his craft.  The young man is talented; and has won songwriting contests.
So if your weekend plans include a visit to Tuttle Creek State Park, do yourself a favor and swing by the food court at the east end of the festival grounds.  Yes, the food smells good, but if you continue past the corn dogs and french fries, you might just hear a future hit.  And the person who sang it…and wrote it…might just be who you're most excited to see at a future Country Stampede.