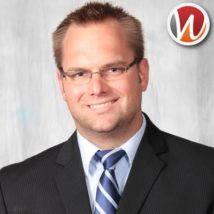 The Wamego Area Chamber of Commerce officially announced Thursday that Daryn Soldan has been named as the new Executive Director effective June 20th.
A news release indicates Soldan brings with him a wealth of small business consultation knowledge and prior Chamber of Commerce and Economic Development experience. He
joins the Wamego Area Chamber of Commerce from his prior position as a small business consultant with the Kansas Small Business Development Center where he served a six county region partnering with local Chambers of Commerce and Economic Development entities to provide education and consultation with local business owners and prospective entrepreneurs.
In addition, Soldan has also taught business and entrepreneurship courses at both Kansas State University and Manhattan Christian College. He also brings with him prior Chamber of
Commerce experience, having both served as the Business Manager for the Junction
City Chamber of Commerce as well as the Economic Development Coordinator for the
Manhattan Area Chamber of Commerce.
"I'm very excited for this opportunity to lead the Wamego Area Chamber of Commerce. The Chamber has a strong foundation of members, volunteers and staff that will continue to grow and do great things. My wife, Melissa, and I are fortunate to call Wamego home. We look forward to a bright future for the Chamber and the community."
Said current Chamber President Corey Reeves, "The challenge for any job search is to find someone who will provide a bridge between the excellent work of the past as well as find a path for continued growth. With Daryn's valuable community business building experience as well as his passion for Wamego we believe we've found the perfect person to lead the Wamego Chamber now and for the future."
Daryn Soldan will be formally introduced to the Chamber membership and community
on June 20th during the June Chamber of Commerce Luncheon at the Columbian
Theatre at 12pm.