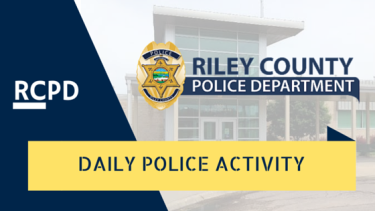 A Wichita man was arrested Sunday afternoon at approximately 3:15 PM in the 3200 block of Claflin Road on several offenses including possession of stolen property and a hallucinogenic drug.  Aaron Petit, 30, received a bond of $11,000.
The arrest took place after a police officer initiated a traffic stop for a traffic violation. A 2009 Dodge Ram 1500 and a flat-bed trailer were recovered as a result of the traffic stop.
###
The Riley County Police Department filed a report for two counts of battery of a law enforcement officer, interference with law enforcement, and battery. Robert Ling was arrested on these offenses while in the 1100 block of Vattier Street and given a bond of $7,000.
Ling's arrest took place Sunday shortly after 1:30 a.m. following a brief physical altercation against two police officers that ended after a short foot pursuit. The officers involved reportedly received only minor or non-significant injuries. They were investigating a battery involving Ling prior to this incident.
###
A Manhattan woman faces several drug-related charges following her arrest Friday. Riley County Police announced Monday Holly McDaniel, 25, was take into custody while in the 600 block of Kearney Street at about 3:10 PM Friday.
McDaniel was arrested on the offenses which included of possession of opiates, opium, or narcotic drugs and hallucinogenic drugs, and endangering a child. The arrest stemmed from a search warrant at the Kearney address. As earlier reported by KMAN, McDaniel's bond was set at $7,000.
###
A Manhattan woman was taken into custody by Riley county Police the end of last week on a probation violation warrant with a drug-related connection. Monday's RCPD activity report indicates Police arrested Margarita Clark, 43, while in the 1300 block of Laramie Street Friday at approximately 10:35 AM.
Clark's bond is $5,000. The original offense listed on this warrant was possession of Hydrocodone.