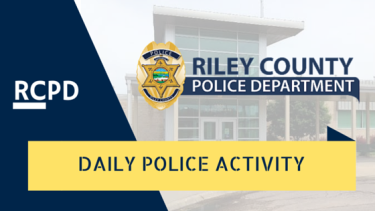 As earlier reported by KMAN, police in Riley County arrested Martin Johnson, 39, of Wamego while in the 4400 block of River Pond Road in Manhattan on Friday evening. The arrest took place at approximately 7:45 PM when officers served an arrest warrant for two offenses of aggravated incest and furnishing alcohol to a minor.
Monday's RCPD activity report indicates the warrant originated in Pottawatomie County and had a bond of $50,000.
###
A Manhattan woman was taken into custody Saturday night on probation violation charges. Gina Jones, 22, was arrested while at the Riley County Police Department at approximately 7:10 PM.
Jones was arrested on two warrants for the offenses of probation violation and failure to appear with original offenses including motion to revoke for the offense of criminal damage to property and possession of methamphetamine.
She was given a total bond of $6,000.
###
Riley County Police arrested a 21-year-old Manhattan woman on a probation violation warrant. Milly Vazquez, was taken into custody while at the Riley County Police Department Sunday at about 2:35 PM.
Vazquez was arrested on a warrant for the offense of probation violation with an original offense of possession of marijuana. She was given a bond of $5,000.
###
The Riley County Police Department is investigating a burglary which took place in the 3000 block of Anderson Ave. in Manhattan. Manhattan Vapors was reportedly broken into with Damage to a glass door (unknown value) as well as stolen US currency in the amount of $200. This crime occurred overnight Friday. If you have information on this crime and would like to remain anonymous and qualify for a cash reward of up to $1,000.00 contact the Manhattan Riley County Crime Stoppers.