Roadwork in Pottawatomie county will make travelling inconvenient for the rest of the summer. Pottawatomie County Commission Chair Dee McKee tells K-MAN Flush Road is now closed until August.
McKee noted at Monday's meeting that there has been some frustration about the projects on Highway 24 and Excel road, but the public seems to be happy now that obvious progress is being made. McKee says the project will be completed by the late fall.
McKee adds she has been receiving calls from concerned citizens regarding speed limits throughout the county, but McKee says it is important for the county to do their research and set a precedent when making future decisions about roads. McKee says Vineyard Road is scheduled to be paved, but county officials are trying to get the correct right-of-way. McKee also said commissioners are preparing a comprehensive road plan, which could lead to slower speed limits throughout the area.
Budget concerns at the state level continue to have a ripple effect across local counties. At Monday morning's Pottawatomie county commission meeting, Big Lakes Development expressed some concerns about funding. McKee tells K-MAN Big Lakes is trying to implement a new program in conjunction with ATA Bus which would allow individuals with special needs to travel throughout the region independently, but McKee says those plans may have to wait…
Growth in Pottawatomie county continues booming as six new subdivisions are in their final stages of development.  McKee says the commission heard about construction updates at Monday morning's commission meeting.
Commissioners are also growing concerned about next year's budget, and how the property tax lid may come into play.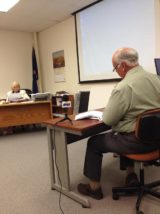 Pottawatomie County Commissioners had a review of the county's K-CAMP insurance Monday morning. Larry Sharp was the representative for the Kansas County Association Multiline Pool based in Topeka and talked about the group's continued growth, with all four corners of the state represented.
Urban counties are not included as many of them are self-insured. Sharp added net gains are strong and those net gains are invested. Sharp also reviewed the strengths since the hard market days of 2009, with insurance and financial sectors during the Great Recession almost collapsing. He says K-CAMP has seen continued growth in Kansas since that time–with a consistent upward trend.
Sharp also told the group if they stay with K-CAMP for the next three years, an $8,600 credit would be awarded, with the rates essentially staying the same. Sharp added essentially the rates would be kept about the same, although adjusted for inflation. Sharp stressed K-CAMP provides earthquake, terrorism, cyber-liability, and flood insurance protection without an additional premium.
No action was taken at this time–commissioners did have a half hour executive session regarding an administrative specialist contract after Commission Chair Dee McKee asked several questions about the person's responsibilities. The contract was approved following that session.