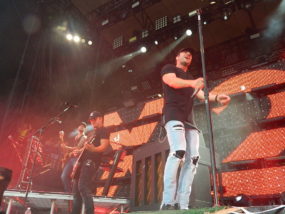 The 2016 Kicker Country Stampede opened up Thursday for the first of the three day festival, and it appears that things went fairly smoothly.  With the exception of a lineup change, festival goers were entertained by six high-energy concerts.  They also benefitted from cooler temperatures and cloud cover, making conditions more comfortable for all involved.  After triple-digit heat on Wednesday, the low nineties were welcome relief.
"It was a great day", said Riley County EMS Director Larry Couchman.  "Today, Mother Nature brought us some clouds.  That big ol' storm that kind of blew off those cloud tops and so it covered up the sun a little bit".
For a while late Thursday afternoon, those dark ominous clouds appeared to be closing in on Tuttle Creek State Park, but instead tracked due east, keeping the stormy weather to the south.  Scattered showers remain in the forecast for the rest of the weekend, and most Stampede veterans know that rain is as much a part of the weekend as the hats and boots.
Couchman mentioned a few medical incidents.  "We had maybe three or four transports out (Thursday).  A couple of medical issues, one heat related issue, but nothing real significant".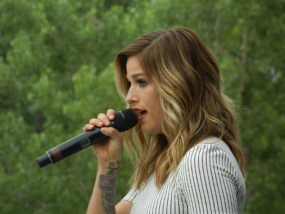 Pottawatomie County Sheriff Greg Riat also reported positive news.  "Pretty good so far", he said when asked about his assessment of the first day of the event.  "We've had some alcohol violations and a couple of other things, but pretty good so far".  Riat added that this was a "good crowd this year", and that he hopes that Thursday will "set the tone for the rest of the event".
The lineup change involved British artist Sasha McVeigh, who was slated to be the first performer.  However, she had an issue with her visa and was unable to travel to the states.  "I'm absolutely heartbroken", said the singer on her Facebook page.  She said the problem was with paperwork that had been "inadvertently" sent to the wrong office.  McVeigh's band "Loveless Effect" took the stage and performed an abbreviated set.
The rest of the scheduled entertainers took the stage as slated, including headliner Dierks Bentley, who wowed the fans with an encore performance of his hit "Drunk On A Plane", complete with a replica nose fusilage coming out of the stage riser.  Newcomer Sam Hunt also performed for an enthusiastic crowd, proving that the headliners aren't the only ones who draw fans.  Ashlin Bohl, of Ulysses, came ready with a sign using a likeness of Hunt and a play on Uncle Sam.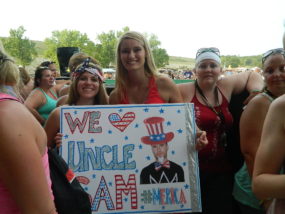 The Stampede continues on Friday, with Gunner and the Grizzly Boys starting things off at 2:30.  High Valley, The Josh Abbott Band, and Chris Janson will follow…all leading up to headliner Tim McGraw.  Five more main stage concerts are scheduled for Saturday before the curtain falls on this year's festival.