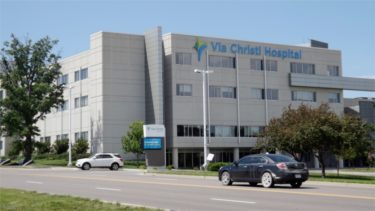 Via Christi Health informed KMAN Tuesday it will be eliminating approximately 70 positions across the state.
However, Via Christi's Communication and Public Relations Director Roz Hutchinson told KMAN later Tuesday afternoon that Manhattan may see what she called a "net job growth" of 15 positions and that a majority of cuts will be in Wichita.
Via Christi Chief Operating Officer Todd Conklin sent a statement to KMAN Tuesday morning saying the reductions do not include associates who provide direct patient care and while there will be cuts, Via Christi is also actively recruiting approximately 80 nursing positions.
"After assessment of our direct and non-direct patient care associate teams, we have made the difficult decision to eliminate approximately 70 positions, which is about 1 percent of our total Kansas-wide workforce," Conklin said in a written statement. "These reductions do not include associates who provide direct patient care. We are actively recruiting for approximately 80 positions, primarily nurses who provide direct patient care.
"For those associates who will be displaced, we are working to find other suitable positions, wherever possible, within our health system. Those who do not find new positions will be provided severance based on their years of service."
In a company memo obtained by KMAN, Conklin told employees performance has been below the budgeted operating margin target of 2.8 percent for this fiscal year. Conklin cited reductions in payments received from commercial and government insurance payers, large increases in the cost of pharmaceutical drugs and investments made during fiscal year 2016 to increase wages for nursing team members as some of the reasons for the cutbacks.
According to the memo, Conklin said all impacted employees will be notified by June 27. The new fiscal year for the hospital begins July 1.
Via Christi, based in Wichita and owned by Ascension Health of St. Louis, is the largest provider of healthcare services in Kansas and took full ownership of the former Mercy Regional Hospital in Manhattan in 2014.