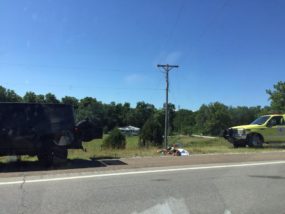 Updated 2 p.m. Monday:
Three people were injured in a two vehicle accident at the U-S 24/Blackjack Road intersection three miles east of Manhattan, at 10:20 a.m. Monday. Carl Behrens, 40 of Wamego, and Alyssa McCormack, 15, and Kyla McCormack, 13, both of St. George were taken to area hospitals following the accident.
According to the Kansas Highway Patrol, the accident occurred while Behrens was eastbound in the slow lane of highway 24, driving a 2006 Ford Taurus. A 2007 Ford Focus driven by Alyssa McCormack was southbound crossing Highway 24 on Blackjack Road when her vehicle was struck by the Taurus. All three people involved in the accident had seatbelts on.
Behrens was taken to Wamego Hospital and the two McCormacks were taken to Via Christi in Manhattan.
###
An injury accident with entrapment was reported in Pottawatomie County on Eastbound Highway 24 by Blackjack Road shortly before 10:30 Monday morning. A KMAN employee on the scene indicates a green car, possibly a Chevy Cavalier, had apparently slid down an embankment and possibly struck a pine tree. An early 2000-era white Taurus had severe front end damage.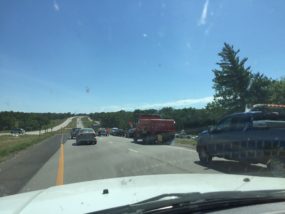 KMAN will have more information as it becomes available.