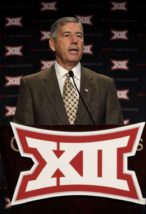 DALLAS — The Big 12 Conference's annual football media days are set to begin Monday morning and continue through Tuesday at the Omni Hotel in downtown Dallas, with half of the league's schools meeting with members of the media on each day.
It's likely that Tuesday will be more intriguing, with title favorite Oklahoma, scandal-ridden Baylor and Kansas State all at the podium. But here is a breakdown of what to follow closely on Day 1.
What does the commissioner have to say? Big 12 commissioner Bob Bowlsby will hold an address and press conference at 9:05 a.m. to begin the week's festivities. Over the last couple of years, Bowlsby has made headlines for his Media Days comments on various issues. This time around, he is sure to be asked about conference expansion. While the probability of a move appears to have diminished in recent weeks, the league is still set to take a vote on it by the end of the month.
The media meets Matt Campbell. Iowa State's new head coach is already popular in Ames, with the Cyclones making nice strides on the recruiting trail under their new, younger leadership. Campbell was hired after consecutive nine-win seasons at Toledo. He hasn't had a chance to talk to the majority of Big 12 media yet, and many are anxious to find out what his plan is to get ISU back to consistent bowl game appearances. Iowa State is picked to finish 9th in the league this year, but Campbell's offense has its fair share of legitimate talent.
What's in store for Kansas in Year 2 of the Beaty Era? Obviously, there's nowhere to go but up after the Jayhawks finished 0-12 last season. That team was depleted by everything from dismissals to spring game injuries. Beaty can't possibly have a worse team in 2016, but how many games can KU win? And is there pressure on him to reach a number higher than two?
KMAN will have coverage of everything that happens in Dallas. A live, on-location broadcast of "The Game" is set for 4-6 p.m. Tuesday after Bill Snyder and his players make their appearances.