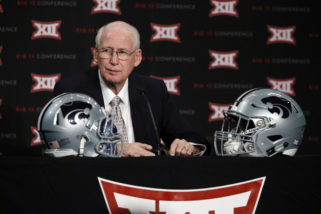 DALLAS — Half of the action from Big 12 Media Days is now complete. Monday included everything from controversial comments by league commissioner Bob Bowlsby to an impromptu mascot dance-off. But Tuesday's lineup includes the more significant 2016 storylines, with Baylor, Oklahoma, Texas, Kansas State and West Virginia at the podium. Here's a list of top things to follow.
Will Bill Snyder tip his hand? It was mildly surprising that Kansas State quarterback Jesse Ertz was listed as a Media Days attendee, given that the Wildcats' competition at that position is ongoing. Does this mean it's Ertz's job to lose? Or is he only there because he's a team captain? Snyder will be asked about this, but don't count on getting a substantial answer.
Is Snyder as bullish on K-State's defense as the media? The Wildcats have a whopping four defensive players on the media's preseason all-league team, and many experts believe K-State has a chance to own one of the Big 12's top units. Snyder rarely embraces any hype surrounding his team, and even refutes it when he thinks it could have a negative impact.
How will Baylor handle the uncomfortable spotlight? No one will be surprised if media members spend more time asking Jim Grobe and his players about this summer's scandal than actual football topics. The fallout from Art Briles' dismissal has been enormous and it's probably not over yet. The Bears' contingent will have to be very careful with what they say, and the media isn't going to take it easy on them.
Who gets more attention: Charlie Strong or Bob Stoops? Oklahoma is the near-unanimous Big 12 title favorite and the Sooners have a decent chance of contending for a second-straight College Football Playoff berth. But the bigger draw at the Omni Hotel may be the Longhorns, because 2016 could be a make-or-break year for Charlie Strong. Texas needs to win eight or nine games, at minimum, to keep Strong's naysayers in Austin quiet. That won't be easy with a schedule that includes Notre Dame, a road trip to Cal, and only four Big 12 home games.