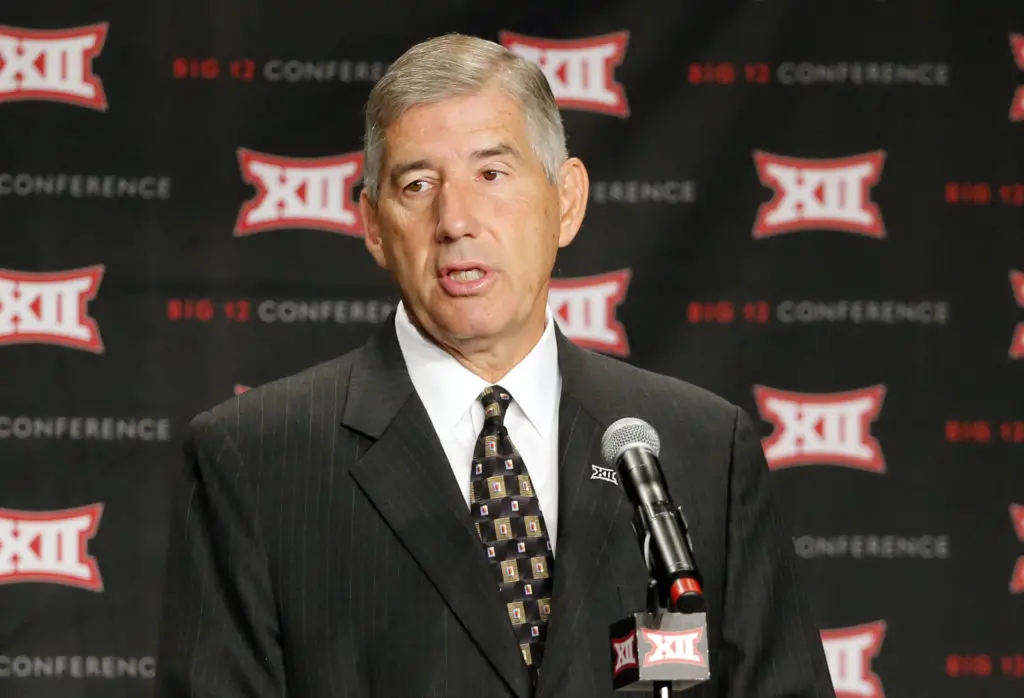 DALLAS — In a difficult and sometimes uncomfortable media day appearance, Big 12 Commissioner Bob Bowlsby spent much of his time addressing the Baylor rape scandal and the future of the league.
How much the league does or doesn't know about the goings-on in Waco was more uncertain when Bowlsby finished than when he started.
In his opening statement, Bowlsby praised the school for its transparency this summer.
"Baylor has been very forthcoming and I don't have any doubt that they will continue to be forthcoming," he said.
Just minutes later, however, his tune changed; he denied using the word "forthcoming" and added that the only information the Big 12 has is what Baylor released to the public last month.
Baylor officials will meet with the Big 12 Board of Directors Tuesday to make a presentation, but they have informed the league there is no written report regarding all the details of the events that ultimately led to head coach Art Briles' dismissal.
Bowlsby also initiated some backlash when addressing the problem of sexual violence in college sports.
"It almost goes without saying that when you combine alcohol and drugs and raging hormones and the experiences of 18- 22 years old, it's probably unrealistic to think that these kinds of things are never going to happen," he said.
"But we certainly want to make sure that from the center we do everything we can to ensure that they are minimized, if not eradicated."
BOWLSBY HINTS DIVISIONS ARE COMING
With the Big 12 Championship Game returning in 2017, many have wondered what the league's priority will be regarding the selection of two teams to play in the game. It doesn't look like the round-robin, nine-game league schedule is going to change.
Bowlsby said he believes the Big 12 will split into two divisions, but how those divisions are split hasn't been determined yet.
"We've talked about a number of different ways," Bowlsby said. "We've talked about an equity base that would on a rotational basis be responsive to how teams are finishing in the overall standings. There has been some talk about staying with one division and going that route. I sense less enthusiasm for that.
"I think we could do a geographic designation of some sort. That gets a little bit difficult going east/west or north/south, and oftentimes those don't make sense."
Bowlsby added that the game will almost certainly be played at a neutral site, and he hopes the remaining details will be worked out by November.
As for the possibility of league expansion beyond ten teams, the issue will be discussed at Tuesday's Board of Directors meeting.