Last week Riley County commissioners voted to keep their salaries flat and eliminated any cost of living adjustment (COLA) increases and step increases for themselves for the 2017 budget.
Monday afternoon, commissioners agreed to eliminate COLA increases for employees as well for 2017, but did keep normal step increases.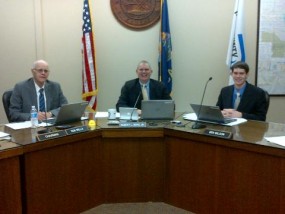 Before the decision, commissioners and department heads went back and forth on what changes to make to the pay scale. Changes in both COLA and step increases threatened to force the county into restructuring its entire pay scale system.
Riley County Human Resource Manager Cindy Volanti told commissioners keeping step increases and eliminating COLA increases for 2017 was the most workable.
County clerk Rich Vargo also cautioned commissioners about make drastic enough changes that could lead to mistakes in employee paychecks.
"Biggest reason, Bob, for my preference on it, is that whenever we have these things — as hard as we try and we have good personnel — this is when errors get made," Vargo said, addressing commissioner Robert Boyd.
Commission chairman Ben Wilson — who last week wanted to go further than just eliminating commissioners' COLA and step increases by decreasing the commission's overall salaries — said last year's COLA increase for county employees makes 2017's elimination easier.
"I think based on that increase last year — well above the CPI (Consumer Price Index) for our COLA — it shouldn't be too big of a deal if we have no COLA this year," Wilson said.
Leon Hobson, the county's public works director, cited how various county entities — such as the Riley County Police Department — see different percentages in step increases.
Hobson told commissioners employees are aware of those differences and it can hurt morale.
Boyd said he'd like to see more uniform step increases.
"We're going to make a concerted effort to get the city, the RCPD and the county on the same basis," Boyd said. "It behooves us to do that as we go forward."
Budget discussions will conclude Thursday and a budget hearing is scheduled for Aug. 15.