Riley County commissioners agreed Thursday morning to keep their salaries flat for 2017 in an effort to keep costs down as they continue to craft next year's budget.
Commissioner Robert Boyd made the motion to eliminate cost of living adjustment increases and step increases for the commission for next year.
The commission was expected to see a step increase of 3.07 percent or a half percent COLA increase.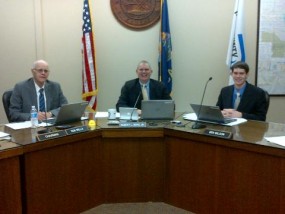 All three commissioners combined amounted to $185,522 of the commission's "personal services" in 2016 according to the county's 2017 Budget Development Worksheet.
"This year is going to be tough, tight," Commissioner Ron Wells said. "And to maintain a mill levy our tax payers could live with, I thought this is the one year (we could do that)."
Boyd and Wells were each paid a salary of $41,641.60 in 2015. Commission chariman Ben Wilson — most recently elected in 2014 — was paid $39,239.20.
At the moment, the 2017 county mill levy is at 39.115, an increase of 0.848 mills from 2016.
A mill is $1 in tax for every $1,000 in assessed, taxable property value.
Wilson asked Boyd and Wells if they were interested in going further and trimming the commission's salaries. Later, Wilson also expressed interest in significantly trimming all county employee's COLA increases.
Neither ideas were popular.
"We're actually on call 24/7," Wells said, citing the board's responsibilities to the county in case of weather and road emergencies.
Wells also said Riley County citizens get a bargain compared to other counties in the state when it comes to administration costs, saying unlike most counties in the state, Riley County has no county administrator along with its three commissioners.
County employee COLA increases will continue to be discussed during Monday's meeting. Budget discussions will finish on July 14 and a budget hearing is scheduled for Aug. 15.
In other items, there's a shake-up at Riley County EMS.
David Adams has taken over as the county EMS director. Adams will continue to be the EMS director for Pottawatomie County. Former Riley County EMS director Larry Couchman will stay as emergency room director.