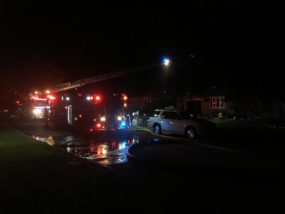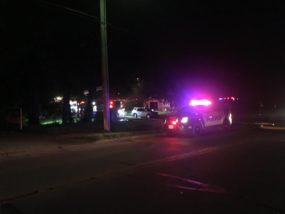 Updated 7:30 a.m.:
KMAN's Cathy Dawes had a chance to speak with Manhattan Fire Battalion Chief Mark Whitehair:
News release follows:
At 3:28 a.m. on July 5, 2016, the Manhattan Fire Department was dispatched to 100 Dix Drive for a report of a structure fire. Upon arrival, crews found a one story residential structure with heavy fire showing from the roof. The fire reached a second alarm before it was contained within 30 minutes.
A total of 17 firefighters responded on 7 fire apparatus. There were three occupants in the single family structure at the time of the fire and they were able to exit the
structure without injury prior to the fire department's arrival. The occupants removed one dog as they exited and the fire department was able to remove the other.
Loss is estimated at $40,000 to contents and $80,000 to the structure, along with $5,000 damage to two vehicles. The owner is listed as David and Joni Braddock at 100 Dix Drive.
The fire cause has preliminary been determined as fireworks.
####
Earlier report (5:30 a.m.):
Not many details at this hour, but a fire was being worked at Casement and Dix early Tuesday morning. Several fire engines were called to the scene and the American Red Cross and Salvation Army were contacted for assistance.
The Riley County Police incident report indicates the fire at 100 Dix Drive was reported shortly before 3:30 a.m. A preliminary check by KMAN of Riley County parcel search records indicates the property belongs to David and Joni Braddock. Manhattan fire officials indicate a news release will be out shortly.