The headlines in many newspapers might hint at the decline of the rural communities of the American Midwest, but Wednesday night's Flush Picnic in Pottawatomie county was a prime
example of the resiliency, beauty and fellowship that Kansas communities still have to offer.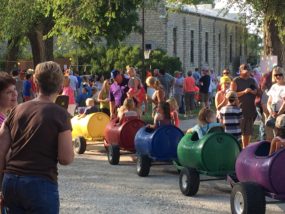 Eighty-one years of delicious fried chicken and fun have kept large crowds coming back to the picnic each summer. Volunteers cook the food and serve it to their friends, neighbors and one thousand other people who come to the picnic because of its' reputation. For just $5 people were able to sit among their friends and be served iced drinks by the youth of the town.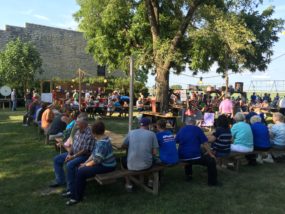 As the aroma of fried chicken and baked goods lingered in the air outside St. Joseph's church, children enjoyed a bounce house and games while adults played bingo and listened to live music. Seventeen year old Zachary Ebert, of Topeka, said he has came to the Flush Picnic for as long as he can remember.
"I dunked my dad in the dunk tank one time, I remember that to this day," Ebert said. He hinted many of his friends in Topeka don't understand his infatuation with the town of Flush.
"I love it, I come back here every weekend. We own a farm back here and there's nothing better."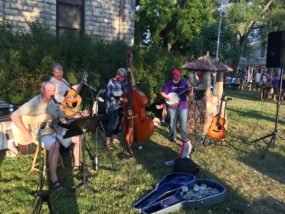 While much of the world remains consumed with political and social turmoil, Pottawatomie county's finest were busy enjoying the company of each other.
"Everyone comes out here to support the church, it's a real good time," Greg Riat said. Riat serves as the Pottawatomie county sheriff and is a lifelong resident. When asked about the impact an election year has on the picnic, Riat smiled and declined to answer.
"I'm not here for any of that," Riat said. "I'm here to see my friends and spend time with the family."
Located north of highway 24 after driving down a stretch of Flush road,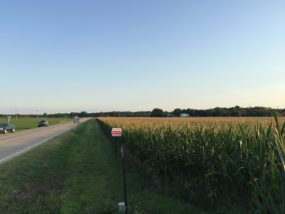 it's hard to shake the feeling that Flush is in its' own corner of the world. As unremarkable as the town might seem on a map, notable visitors including Congressman Tim Huelskamp and Senator Jerry Moran were at the picnic. Both politicians said it was their first time attending the Flush Picnic, and said the current schedule of Republican and Democratic conventions allowed them to be in Kansas rather than in Washington, D.C. Other politicians and candidates were at the picnic including representative Sidney Carlin of the 66th district, and Stan Hoerman, who is also running for the 66th district seat.