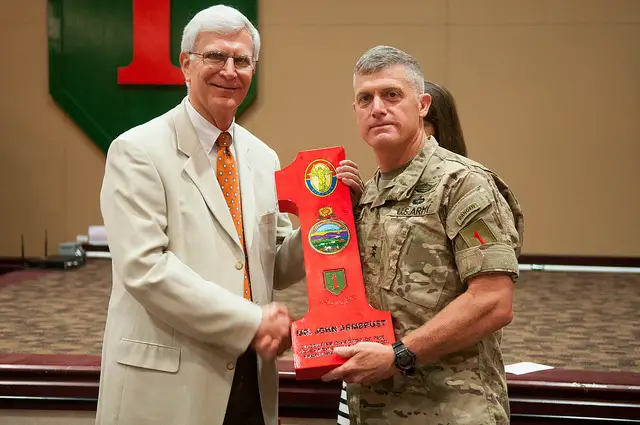 (Editor's note: story written by J. Parker Roberts, 1st Inf. Div. Public Affairs)
The "Big Red One" officially welcomed three new leaders to the 1st Infantry Division with a Victory with Honors ceremony Thursday at the division's headquarters on Fort Riley. The ceremony also allowed soldiers and civilians to say goodbye to two men who have had a great impact both within the division and in the state of Kansas.
Brig. Gen. William A. Turner, Col. Scott Efflandt and Col. Charles Masaracchia were welcomed as the division's new deputy commanding general, deputy commanding officer and chief of staff, respectively. Also honored were Col. Peter G. Minalga, the outgoing 1st Inf. Div. chief of staff, and John Armbrust, the departing executive director of the Governor's Military Council.
"John and (his wife) Karen Armburst are examples of lifetime servants," said Maj. Gen. Wayne W. Grigsby, Jr., Commanding General of the 1st Infantry Division and Fort Riley. "We at Fort Riley have a saying: Fort Riley is the best place to live, train, deploy from, come home to and retire at. We believe all this, and you should to. It was through the efforts of people like John Armburst who worked tirelessly and partnered with us over the many years to ensure that we had the very best facilities and support from our civil elected leaders."
The Governor's Military Council seeks to grow and protect major military activities located in Kansas while creating defense-related jobs and helping local governments improve conditions for service members and their families, according to information from the governor's office.
"Pete's time in the division was exemplary," Grigsby said of Minalga, who commanded the 4th Infantry Brigade Combat Team, 1st Inf. Div., during its regionally aligned forces mission in Africa before serving as the chief of staff. "Pete had small teams – sometimes as little as one to two soldiers — and upwards to the BCT headquarters deployed all over the continent of Africa to build relations with and improve our African partners' capacity and capability to close with and destroy our enemies."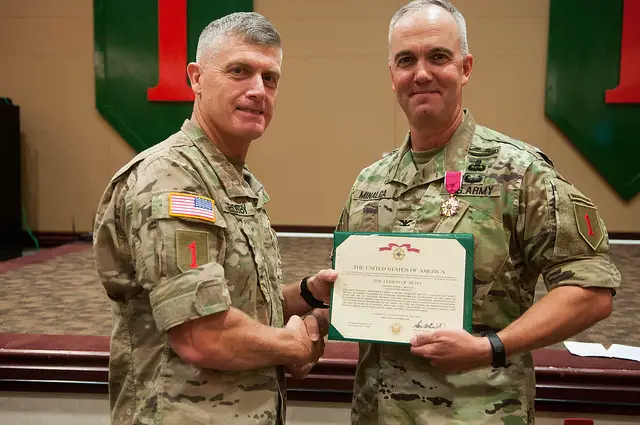 Minalga is set to retire soon from the Army after a 26-year career.
"The Army will always be in my heart," Minalga said. "The men and women I have led throughout my career will always be in my heart. The men and women of the 1st Infantry Division headquarters will always be in my heart."
Turner most recently served as commandant of the United States Army Field Artillery School, United States Army Fires Center of Excellence, at Fort Sill, Oklahoma, beginning in June 2014. He previously served with the Big Red One as commander of Battery B, 6th Field Artillery Regiment, 1st Infantry Division (Mechanized) Artillery, from December 1991 to August 1993 and as current operations officer for the DIVARTY from January to December 1991.
"This is indeed the best place in the Army to live, train, deploy from and come home to," Turner said. "We're very excited about this opportunity."
Efflandt most recently served as executive officer to the commander of the U.S. Army Forces Command from July 2015 to July 2016. He also served as chief of the programs division in the Office of the Chief Legislative Liaison at the Pentagon.
"I'm the newest Big Red One Soldier, and I couldn't be happier to be standing here today," Efflandt said. "I was first assigned to Fort Riley, Kansas, in 1984, and I've been trying ever since to be back."
The deputy commanding officer joked there was a moral to that story: "I'm not very fast, but I am persistent."