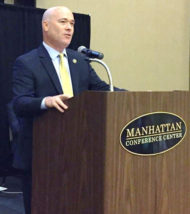 Acting U.S. Attorney Tom Beall helped open a conference on human trafficking in Manhattan Tuesday morning. Almost 200 law enforcement officers and victim service providers from across Kansas are in Manhattan Tuesday and Wednesday to team up in the fight against human trafficking.
"Human trafficking is the modern form of slavery," Beall said. "It's here now. It's happening in communities across Kansas. It's everybody's problem."
Beall is joining with Riley County Attorney Barry Wilkerson, Kansas Attorney General Derek Schmidt and the Kansas Law Enforcement Training Center to sponsor the conference, which is running from 8 a.m. to 4 p.m. July 12, and 8 a.m. to noon July 13 at the Manhattan Conference Center, 410 S. 3rd in Manhattan.