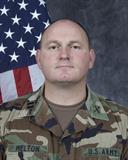 Captain Robert Melton of Kansas City, Kansas was shot and killed Tuesday while approaching the suspect of an earlier shooting in the area.
Capt. Melton was not only a seasoned officer of the Kansas City Police Department, but was also a retired Captain in the Kansas Army National Guard. Melton first enlisted into the Kansas Army National Guard in 1986, commissioned as an officer in 1997, and retired from the service in 2012.
During his 26 years of service, Melton served on Fort Leavenworth as part of Operation Noble Eagle in 2003, Operation Iraqi Freedom from 2006 to 2007, and Operation Enduring Freedom from 2010 to 2012.
Maj. Gen. Lee Taffanelli, Kansas Adjutant General says the Kansas Army National Guard is mourning the loss of Capt. Melton. An investigation into the shooting death of Melton is ongoing.