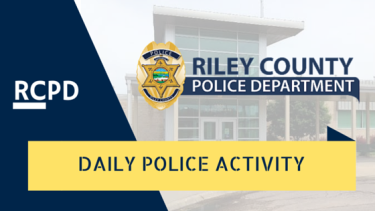 A Manhattan man was taken into Riley County Police Department custody on Saturday.
Joshua Foster,23, was arrested by the RCPD for probation violation at 115 N 4th St on Friday.  He was given a bond of $10,000.
---
A Manhattan man was arrested on Sunday.
Riley County Police Department arrested Kevin Harbaugh, 34, while at the RCPD Saturday.  Harbaugh was arrested on charges of probation violation and a bond was set at $5,000.
---
Police arrested Dorian Green, 23, of Junction City while in the 3700 block of K18 HWY on Saturday. Green was arrested on a warrant for failure to appear with a bond of $5,000. This warrant originated in Geary County.