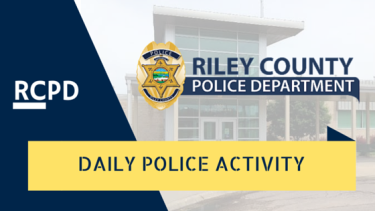 Officers with the Riley County Police Department made an arrest for possession of stolen property in the 800 block of Vattier Street in Manhattan Thursday at approximately 1:30 PM following a traffic stop. Based on information available at the time of the stop and out of an abundance of caution, officers performed a "high risk traffic stop," meaning police called the driver and occupants out of the car instead of approaching the vehicle.
Occupants were detained without incident and Shameke Strong, 34, of Manhattan was arrested on the offenses of possession of stolen property which included a 1999 Jeep Cherokee and driving while suspended. Strong was given a bond of $2,500. Police indicate the surrounding community was not in danger during the time of this incident.
###
Riley County Police made a couple of arrests Thursday with one involving Kody Nations, 22, of Ogden. Nations was taken into custody while in the 400 block of 13th Street in Ogden on the offense of probation violation, with an original offense of possession with intent to distribute methamphetamine. Bond was set at $5,000.
And Christopher Cuchy, 23, of Manhattan was arrested at approximately 2:00 PM while in the 700 block of Vattier Street. Cuchy was taken into custody on the offense of failure to appear which was listed on a "no bond" warrant from Pottawatomie County.