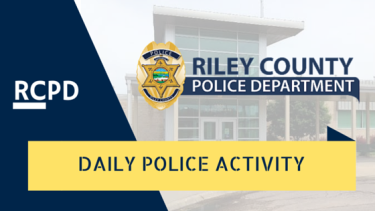 As KMAN reported this past weekend, officers with the Riley County Police Department arrested a Manhattan man on multiple drug related offenses with a bond of $71,000. James Schuyler, 30, was taken into custody at approximately 12:30 AM Saturday while in the 900 block of North 3rd Street.
More than 20 charges are listed, including the drug-related counts and some weapons violations.
RCPD reminds those who have information on the illegal distribution or use of drugs in the Manhattan or Riley County areas to contact RCPD or the Manhattan Riley County Crime Stoppers at 785-539-7777. Using the crime stoppers service can qualify tipsters for a cash reward of up to $1,000.00 while remaining completely anonymous.
###
Riley County police arrested a Manhattan man on criminal threat and battery charges this past weekend.  Michael Agnew, 36, of Manhattan was taken into custody while in the 1100 block of Garden Way Saturday night shortly before 11:30 PM.
The criminal threat and battery offenses were listed on a warrant with a bond of $5,000.