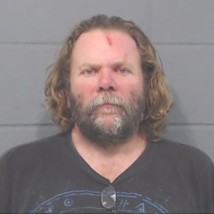 Richard Tilton, 43, was convicted of one count of aggravated indecent liberties of a child under 13 and 10 counts of sexual exploitation of a child in May of this year.
On Wednesday, Tilton received the maximum sentence of life in prison plus 73 months, as well as lifetime parole and electronic monitoring if he is ever released from the Department of Corrections. After a mandatory term of 25 years, Tilton will go in front of a parole board to determine whether or not he is eligible for parole.
The Geary County Attorney's Office, Riley County Attorney's Office, Dickinson County Attorney's office and the US Attorney's Office alongside respective police departments collectively agreed to investigate and prosecute Tilton. This case arose from a complaint made by the victim, then a 9 year-old autistic child, who told his teacher about sexual contact with Tilton. At the time of these occurrences, Tilton was renting a room from the child's parents. Detectives in this case found thousands of pornographic images and videos, many of which were homemade, spanning back 20 years in the possession of Tilton.
Police have not been able to identify many of the child victims of Tilton's actions and ask the public for help in identifying any other possible victims.