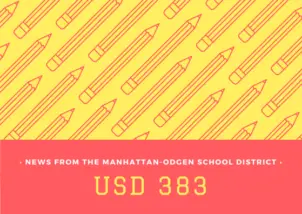 Manhattan-Ogden USD 383 and Manhattan-Ogden NEA reached a tentative agreement Thursday, July 7th.  The teams have been meeting for five months to discuss the contract for the 2016-2017 school year.
Highlights of the new contract include:
2.5% total compensation package increase
Increase of $775.00 on the base salary (starting salary for a teacher will be $37,000)
Continued coverage of the health insurance premium
Adjusted and extended due process language procedure for teachers
Agreed to contract language to support dual credit classes with MATC
Promotion of equity through extending teaching overload language to include all levels
Moved several longstanding one year agreements to the main contract
Approved a committee to investigate leave policy language
"The Association and Board negotiating teams worked jointly through multiple issues while arriving at a tentative agreement that will be good for the district, the students, and the teachers," said Eric Reid, Assistant Superintendent.  "The level of teamwork and problem solving demonstrated by the Association and Board was impressive.  We were able to reach consensus on difficult issues such as overloads and equity that have been contention points for many years.  I truly appreciate the Association representatives for their efforts to look at the district as a whole and valuing our entire team."
"I am very pleased with this year's negotiations.  The working relationship between the board and teachers is terrific.  We accomplished a great deal toward equity, working conditions, and salary while being sensitive toward the district's need to help the classified staff," states James Neff, lead negotiator for the teachers and president of the Manhattan-Ogden NEA.
The Board of Education will vote on ratification of the tentative agreement following a ratification vote by teachers currently scheduled for August 10th.