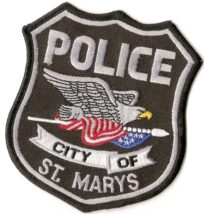 The St. Marys Police Department has released new information regarding a stolen vehicle in their jurisdiction that was later involved in an injury accident just north of Rossville. Police Chief J. Winkleman indicates in an Thursday afternoon news release, a report was first taken Monday by the department related to a vehicle theft in town.
Winkleman adds the vehicle was left at a business in St. Marys on July first, but was reported stolen between the evening hours that Friday and Monday the fourth. The 2010 Dodge Caravan belonged to another local business.
During the investigation, it was learned the vehicle had been taken at about three a.m. on Sunday.The Prairie Band Pottawatomie Tribal Police indicated they came into contact with the vehicle at about 2:40 that afternoon before the vehicle had been reported stolen. The Tribal officer had identified the occupants in the suspicious vehicle call.
As reported earlier by KMAN, the vehicle late Wednesday morning was involved in an injury accident in Rossville, with one occupant who was suspected of the theft. Chief Winkleman adds due to additional pending charges and the number of jurisdictions involved there will not be much more information released by his department.