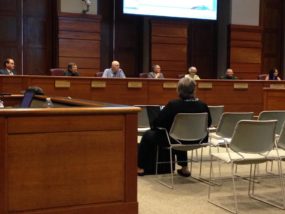 Use of force was a topic at Monday's Riley County Law Board meeting, with a last minute presentation at the request of law board member Karen McCulloh, who asked for the information the end of last week. In light of recent events nation-wide, Lieutenants Tim Schuck and Greg Steere talked about training used, with some numbers presented by Lt. Steere.
Lt. Steere told the group in 2015 there were about 57,000 calls for service, which doesn't include other contacts that don't generate a call for service. 75 separate use of force incidents occurred for that same time frame, which Steere says shows it's relatively rare in the Riley County community.
In addition to reality based training which started several years ago, critical incident training and a variety of other methods were described. It was also announced that every officer from lieutenant down has a taser and O-C, or pepper spray. Extended range impact munitions are also available for use, which the lieutenants described as almost like being hit by a baseball in rapid succession.
A recent multi-agency training at Eisenhower Middle School involving an active shooter scenario was critical, according to Schuck and Steere. The board members had high praise for the work being done by RCPD in this regard–and also took the opportunity to talk about how much they appreciated the services local law enforcement and other emergency crews provide. A more formal statement of the law board's backing will be prepared, according to Chair Robert Boyd.
Riley County Police Director Brad Schoen admitted events nationwide have been unsettling–but talked about the recent vigil organized by a community member at police headquarters, and numerous baked goods, cards, and supportive posters that have been dropped off at RCPD. He described the gestures as "heart-warming," and "appreciated."
While much of Monday's law board meeting revolved around a use of force presentation and appreciation mentioned for services provided by Riley County Police, board members had questions about the 400 block of Fremont and recent questions about whether that area falls under the disorderly house ordinance. As KMAN has reported in the last half year, arrests have been made in that area on a couple of occasions, with two in February for drug-related offenses.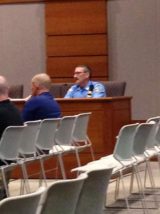 Captain Josh Kyle indicated things have changed since the original disorderly house request, with the suspects involved evicted. However, Kyle hinted there might still be some issues with another house close-by that continues to be of interest to the police department, with the beginning stages of moving forward on a disorderly house at that location. Board members thanked Captain Kyle for the update on the matter.