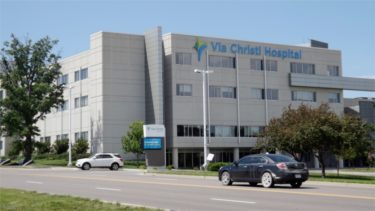 Via Christi Hospital in Manhattan is holding a reception and blessing for its new patient admissions and endoscopy units.
Patients, medical professionals and community members are invited. The event will take place from 4:30 to 6:30 p.m. July 21 in Patient Admissions.
Deacon Wayne Talbot will provide a blessing, prayer and brief remarks. A second, similar ceremony will be held in the new GI/Endoscopy waiting room. A reception with light refreshments will follow. Those in attendance will have the opportunity to tour the new GI/Endoscopy Center, which is slated to be fully operational this month.
The new patient entrance features an admissions desk, large waiting room and lab draw area. The new entrance will also feature a few additional short-term admissions and handicapped parking spots.
The endoscopy unit is a brand new wing that will be used for outpatient gastrointestinal procedures such as colonoscopies and upper and lower GI procedures.
The local hospital has been going through many physical changes since April 2015. The construction project is part of a $15.5 million renovation project to provide more clinical space, updated features and improve patient flow, access and security.
RSVP no later than July 12 by calling 323-6796.