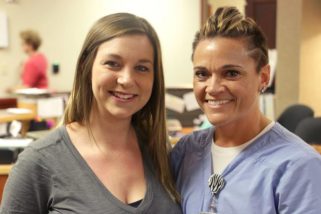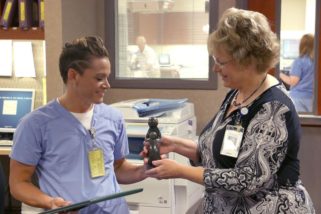 Via Christi Hospital named its first The DAISY Award for Extraordinary Nurses recipient during a brief ceremony July 21 at the hospital's Birth and Women's Center. Jessi Erickson, RN, a labor and delivery nurse, received the honor.
Erickson, who hails from Wamego, has worked for Via Christi Hospital for 11 years. She was one of 17 exceptional Via Christi nurses who were nominated by co-workers, patients and their family members.
"We are so proud to incorporate The DAISY Award into our nurses' recognition program," said Jennifer Goehring, Assistant Chief Nursing Officer and Administrator-Operations. "Jessi is such a wonderful nurse. From reading the two patient nominations she received, it really shows her love for her patients and her job. She is there to support and care for women and their families on the most important day of their lives. We couldn't be happier that Jessi was selected to be our first recipient."
Erickson's former patient, Carly Suther, wrote in her nomination "Jessi has truly found her calling in life as a registered nurse because I can't imagine my delivery without her. If I could have hand-picked an RN to have in the room with me, it would definitely be Jessi. Words will never be able to express my appreciation for the love Jessi puts into her job."
Along with Erickson's fellow nurses, Suther and her 7-week-old daughter, Hailey, also came to the recognition ceremony.
Each quarter, one nurse will be selected to receive The DAISY Award. At a presentation given in front of the nurse's colleagues, physicians, patients and visitors, the honoree will receive a certificate for being an "extraordinary nurse." The certificate reads: "In deep appreciation of all you do, who you are, and the incredibly meaningful difference you make in the lives of so many people." Each honoree will also be given a sculpture called A Healer's Touch, hand-carved by artists of the Shona Tribe in Africa, as well as other gifts.
The not-for-profit DAISY Foundation is based in Glen Ellen, Calif., and was established by family members in memory of J. Patrick Barnes. Patrick died at the age of 33 in late 1999 from complications of Idiopathic Thrombocytopenic Purpura (ITP), a little known but not uncommon auto-immune disease. The care Patrick and his family received from nurses while he was ill inspired this unique means of thanking nurses for making a profound difference in the lives of their patients and patient families. The DAISY Award is part of the DAISY Foundation's program to recognize the super-human efforts nurses perform every day.