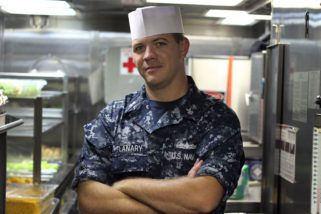 A Wamgeo native serving in the U.S. Navy, is participating in the world's largest international maritime warfare exercise, the Rim of the Pacific Exercise (RIMPAC). Petty Officer 1st Class Korhy Flanary is a culinary specialist aboard USS Chung-Hoon, currently operating out of Pearl Harbor, Hawaii.
According to Navy officials, RIMPAC provides a unique training opportunity that helps participants foster and sustain cooperative relationships that are critical to ensuring the safety of sea lanes and security on the world's oceans. This year will be the 25th exercise since its beginning in 1971.
The theme for this year is "Capable, Adaptive, Partners," Navy officials explained. The participating nations and forces will exercise a wide range of capabilities and demonstrate the inherent flexibility of maritime forces.
"I like the crew aboard this ship, it is very tight knit," said Flanary. "We are all very open. The crew will give us criticism, and we adapt the meals and they are very honest. We work to change the menu to fit how they want it."
Flanary graduated from Wamego High School in 2006.