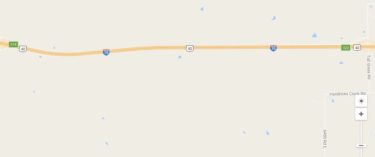 Five Utah residents, including two who had qualified for the AMA Amateur National Motorcross Championship,  were transported to Via Christi Hospital in Manhattan after a Sunday morning car accident in Riley County.
The accident occurred shortly after 5:30 a.m. when a 2005 Volvo pulling an enclosed race car trailer hydroplaned then lost control on the right shoulder of I-70 eastbound. The vehicle and trailer rolled then came to a rest on its' wheels in the north ditch. Kansas Highway Patrol responded to the accident at mile marker 320, and the five occupants of the vehicle had sustained injuries in the accident. The report indicates nobody was wearing a seatbelt.
All five people in the car as listed as being residents of Washington, Utah. Misty Palmer, 41, was driving at the time of the accident. The four passengers in the vehicle include Juston Palmer, 42; Kyson Palmer, 15; Kayden Palmer, 16; and 15-year old Robert Van Otten. 
15 year old Kyson and 16 year old Kayden Palmer were involved with the AMA National Motorcross Championship in Hurricane Mills, Tennessee which was held this last week.