Riley County commissioners continued efforts to sell some of its county buildings during a work session on the subject Monday.
Commissioners agreed to publish two notices of intent to sell property, including one for the Courthouse Plaza East building — where the commission meets — at 115 N. Fourth St. in Manhattan, and another for a packaged sale of the Emergency Medical Services building, the Pawnee Mental Health building and the Genealogical Society building. Those properties all reside on the 2000 block of Claflin Road in Manhattan.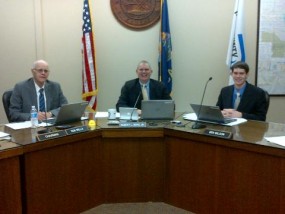 Commissioner Ron Wells was hesitant on efforts to sell the Plaza East building because at the moment, he's not sure where they'd relocate to.
"We don't have enough information on where we're going to go," Wells said. "Nothing is going to happen in one year, unless we lease another building. We can't construct a building (in a year), so I'm not in favor of selling this building."
Commissioner Robert Boyd said the county doesn't have to sell any of the buildings and that it would be to the county's benefit to know their value on the market and how they'd bid.
Commission Chairman Ben Wilson agreed with Boyd.
"This is an important first step in the process of deciding where we're going to move to, is putting it up for sale," he said.
The county plans to publish these notices on Aug. 14, 21 and 28. Bids for the EMS, Pawnee Mental Health and genealogical society buildings will have a deadline of Sept. 15. Bids for the Plaza East building will have a deadline of Dec. 5.
A successful bid for the Plaza East building must close by Feb. 1, 2017.
In other items, county clerk Rich Vargo reported to commissioners that the county has counted 1,524 advanced voting ballots by the end of Saturday.
Advanced voting ended Monday.
Polls open for Tuesday's primary at 7 a.m.