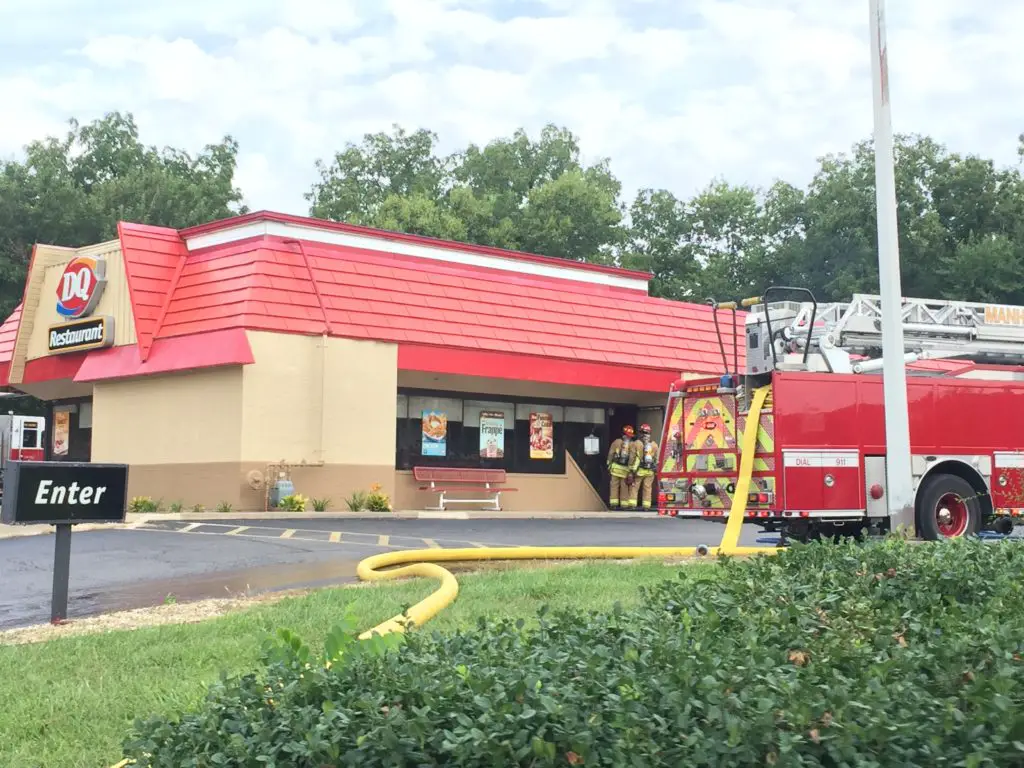 Updated 5:07 p.m.:
Tuesday's early morning blaze that called firefighters to the Dairy Queen on 3116 Anderson in Manhattan caused $400,000 in damages.
A news release from the Manhattan Fire Department said the Dairy Queen suffered $200,000 in structure damage and another $200,000 in equipment and food losses.
Updated 11 a.m.:
News release provided by Manhattan Fire Department–At 7:25 a.m. Tuesday, the Manhattan Fire Department was dispatched to the Dairy Queen located at 3116 Anderson for a report of smoke in the building.
Upon arrival, crews found a one-story restaurant building with moderate smoke and a fire located in the rear of the structure. The fire reached a second alarm before it was contained within approximately 20 minutes. At the height of the fire, 6 fire apparatus and 22 firefighters responded, with units still on scene at the time of the release. One westbound lane of Anderson Avenue was closed for approximately one hour and crews are still on scene working at the time of this release.
The building is a one-story fast food restaurant that was closed at the time of incident. The building suffered extensive smoke damage and the restaurant will be closed for an unknown amount of time. The owner of the building is listed as the Elaine D Harder Trust of Junction City, Kansas. The fire cause is under investigation at this time.
###
Earlier report:
Crews with Manhattan Fire Department and Riley County EMS responded to a fire at the Dairy Queen on Anderson Avenue shortly before 7:30 Tuesday morning. Deputy Fire chief Ryan Almes tells KMAN the fire was under control in about 17 minutes, but arrived to find smoke throughout the building. A dollar estimate or cause is not yet available and Almes indicates the restaurant will be closed at least for a day. Kansas Gas Service and Westar Energy also responded to the call. West bound Anderson is currently blocked in that 3100 block area due to emergency crews on the scene.
Andrew-Shores-reports-from-DQ.mp3