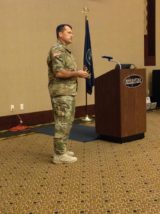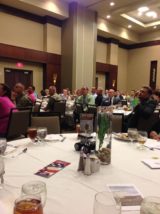 The 1st Infantry Division's Sustainment Brigade hauls everything from tanks to postcards–with a "pretty broad mission" and responsibilities which include managing commodities, supply, postal items, financial, and contracts. That was just part of the message Wednesday from Colonel Allen Cassell, Commander of the Sustainment Brigade, who spoke during a Military Relations Committee Luncheon associated with the Manhattan Area Chamber of Commerce.
About four months ago the Sustainment Brigade redeployed, and since then Colonel Cassell's been trying to tell the story of downrange activities and the importance of the community. Colonel Cassell also talked about partnerships and opportunities, referring not only to the 30 plus years of working with Kuwait but to the importance of community partnerships.
The Brigade Commander said he couldn't be more proud also talked about the importance of flexibility, adaptability, and resiliency.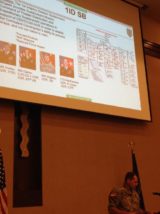 4,000 soldiers from the Brigade have been in theatre in the Middle East representing Fort Riley  but other areas such as  the Army, Marines, Air Force, and Reserve units.
Cassell showed the group a map of the Middle East, saying you could fit 11 or 12 states of Kansas into the area from Iraq down to Saudi… which further contributes to the logistics involved when transporting the various items involved.
Janet Nichols who serves as the Military Community Liaison with the Manhattan Area Chamber of Commerce admits even she learns new things from such presentations as that presented by Colonel Cassell Wednesday. She was pleased with the turnout of about 100 people Wednesday at the Military Relations Committee luncheon, with many still on vacation and the post going through a rotation right now.