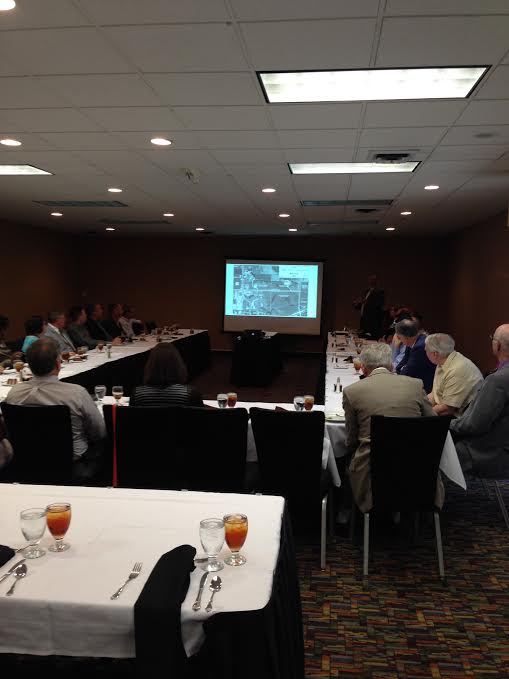 There's been a lot of talk about planned improvements at Denison and Marlatt–and Brad Waller with Alfred Benesch and Company updated intergovernmental leaders Monday on how that planning is progressing. Waller was pleased with the response he got, saying everyone seems to be very positive and sees the project as a needed improvement.
Waller adds there will be a public meeting in less than a month on the subject–September 14th to be exact, at the Fire Station Headquarters at Denison and Kimball.
The Alfred Benesh office manager adds creating a more safe and efficient corridor with curb and gutter that allows for future expandability is one of the primary goals. Hopes are to have the design complete by 2017, with actual construction in 2018.
An update from Kent Glasscock with K-State's Institute for Commercialization that was originally on the agenda was postponed.
While not on the agenda, the Flint Hills Regional Council is hosting several meetings later this week regarding the impact to the communities surrounding Fort Riley as a result of the reductions in troops earlier announced. Executive Director Gary Stith updated intergovernmental leaders on a grant that will assist with their efforts.
There will be two meetings on Thursday,(Aug 25) in Junction City from 1:00-3:00 and 6:00-8:00 p.m. at the CL Hoover Opera House. Another meeting will be held Friday (August 26th) in the Manhattan City Commission Chambers from 10:00-12:00 p.m.
The intergovernmental meeting features representatives from the city of Manhattan, Riley County, USD 383, K-State, Fort Riley, and the Manhattan Area Chamber of Commerce.