In a largely unsurprising announcement Monday morning, Kansas State football coach Bill Snyder said Jesse Ertz will be the Wildcats' starting quarterback when K-State opens its season Friday at No. 8 Stanford.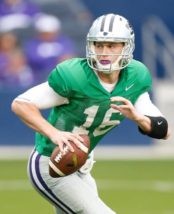 Ertz was the favorite to win the job, having done so last year before suffering a season-ending injury on the first play of the 2015 season. But on Tuesday's Big 12 coaches teleconference, Snyder said the redshirt junior only separated himself from other contenders for the job in the last four days.
"It was very competitive," Snyder said. "Jesse pulled himself away in the last four days by having more consistency on the practice field."
Senior Joe Hubener and redshirt freshman Alex Delton are the leading competitors for backup duties. Hubener took over the starting job after Ertz's injury last year, but struggled. True freshman Skylar Thompson is expected to redshirt this season.
Snyder stressed that consistency is what Ertz brings to the table, at least to a greater degree than Hubener or Delton.
"In all reality, (Ertz) has been more consistent," Snyder said. "That is extremely important to us going into our first ball game."
The Wildcats kick off the 2016 season in Palo Alto, Calif., at 8 p.m. CT Friday. Coverage on KMAN begins with Powercat Gameday at 4 p.m., which will be broadcast live from The Old Pro sports bar in Palo Alto.