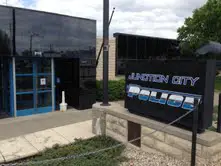 A suspect is in custody in Junction City after a two hour negotiation with law enforcement following a reported domestic disturbance Monday night.
Junction City Police report shortly before nine p.m they were dispatched to the 300 block of 5th Street,  and upon arrival contact was made with a woman who advised her common law husband had threatened her as she exited the residence.
It was reported the man in the apartment, identified as 49 year old Scott Robins, had a shotgun and had threatened to harm himself and others. Contact was made with the subject by telephone and he refused to exit the apartment to speak with the investigating officers.
Members of the Junction City / Geary County Swat Team were called in to assist with the standoff along with the Geary County Sheriff's Department.
Robinson surrendered and was taken into custody without incident about two hours later. He was charged with  Criminal Threat, and Interference.