The Undersecretary of the Army, a holder of one of the highest positions in the nation, spoke at the K-State Alumni Center Monday night to discuss the army's present state and it's future.
Murphy was complimentary of the environment at K-State.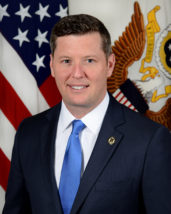 "K-State has one of the best military-civilian partnerships in the nation," Murphy said. "It's not just ROTC. It's really what they're doing as far as partnership with Fort Riley, the community, and local veterans."
As tensions overseas become more prevalent, and a gap between military and civilian life grows, Murphy told soldiers on Fort Riley and members of the community to remain active in community and public service wherever they could.
"We're trying to use the model here at Kansas State at other universities across this great nation," Murphy said.
Murphy said Fort Riley has an $3.4 billion economic impact on the surrounding the region. He said it's not numbers that matter as much, however, as the soldiers and their families who continue to make a difference here at home.