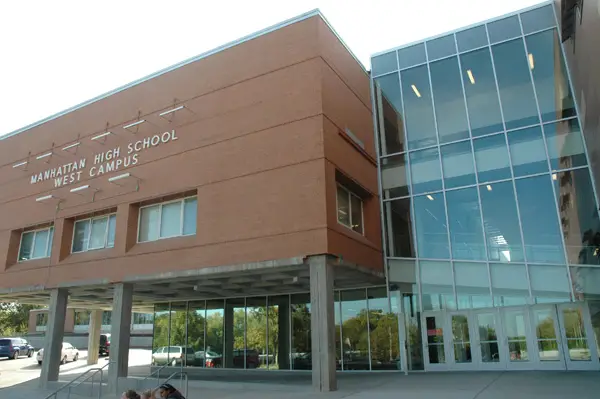 The mystery illness that has sent several students and faculty members home with vomiting, diarrhea and nausea symptoms since Aug. 22 is still an enigma.
"We don't know," Riley County Health Department Director Jennifer Green told KMAN Thursday afternoon. "What I think was getting reported before was just absences. And what we really need is the number of confirmed cases of nausea and vomiting. Until we know that, we can't get a final number."
Last week the number of absences that were supposedly associated with the illness reached 150 and symptoms first reported from Manhattan High School West Campus in August has spread to other schools within the district.
Green said an online closed survey was emailed to parents and students of MHS this week and that more stool samples are still needed.
"That's why we're conducting the survey," she said. "Before we were phoning parents to try and confirm cases, and this, hopefully will be a more efficient way to do that.
"Parents and students may be more likely to respond to a confidential survey that's online that they can do pretty quickly, as opposed to a phone call from a health department employee."
The health department has partnered with the Kansas Department of Health & Environment on the sickeness and the KDHE reported two samples had tested positive for E. coli. Both Green and the KDHE believe those results are outliers, however.
"These results may be unrelated to the outbreak," Green said. "(The symptoms of E. coli) are really inconsistent with the other illnesses that have been reported."
USD 383 Superintendent Marvin Wade told KMAN during Wednesday morning's airing of "In Focus" that the district is taking precautions while the investigation continues.
"At all of our facilities we're using the bleach solution (KDHE) recommended we use," Wade told KMAN's Cathy Dawes. "We're being very careful about cleaning all of the surfaces. We're encouraging people if they do have the nausea, vomiting, diarrhea to stay home and stay home 24 hours after those symptoms subside."
Wade said he's confident the situation is under control and nothing the school district can't handle. He also said the district has been in close partnership with the county health department and KDHE on the matter.
"We experience (sickness) most every year," he said. "It comes around and we deal with it. It's early this year. We don't know the source, but students and staff have been sick for a few days, then they come back and they seem to be fine. It's not as widespread as sometimes it's being portrayed as, and we're watching it closely.
"This is not life-threatening," he later said. "To me — and this is the unscientific me speaking here — but it's comparable to the flu."
Green said testing continues.
"Some of these tests are pretty quick, and we get results back pretty quickly, and other tests can take up to a week," she said. "So we're still waiting for results and to do additional testing on those samples so we can get results back that are meaningful.
"We don't have enough samples to rule things out, so that's one of the things we're still asking for is samples," she said. "We can't just have one or two samples, we need a multiple of samples."
Norovirus has been the rumored culprit, but so far, no medical authority knows if that's the case.
"We're testing for everything right now and we're not ruling out any possibilities," Green said. "So I don't think we know yet that it's norovirus. We don't know that it's not. At this point we're testing for everything. Sometimes in an investigation of this size, you get various results and they're not at all related."
While Green is new to the health department and in her first year as director, she said an investigation of this scope is a rare one for her colleagues.
"The size of this outbreak is a little bit larger than something we might have seen in the past," she said.