TOPEKA — Four former Kansas governors are launching a bipartisan campaign next week to retain Kansas Supreme Court justices in November's election.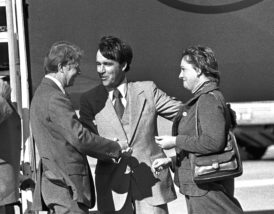 The three invitation-only events with former Republican Govs. Mike Hayden and Bill Graves and former Democratic Govs. John Carlin of Manhattan and Kathleen Sebelius are sponsored by Kansans for Fair Courts. It says it wants to keep the state's courts independent.
The first event is Tuesday morning at Union Station in Kansas City, Missouri. The others are Tuesday afternoon in Topeka and Wednesday morning in Wichita.
Voters will determine whether five of the seven justices receive another six-year term. They are Chief Justice Lawton Nuss and Justices Carol Beier, Dan Biles, Marla Luckert and Caleb Stegall.
Conservatives are targeting all of them except Stegall. He is Republican Gov. Sam Brownback's only appointee.