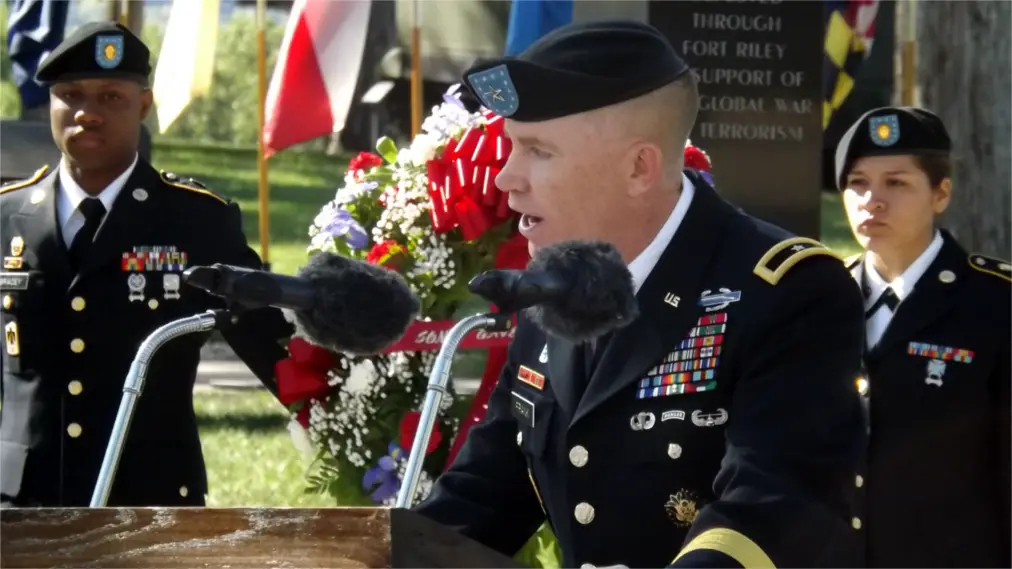 FORT RILEY — It's been 15 years since the events of Sept. 11, 2001. But on Sunday at Fort Riley, the pain of that day and the ripple effect it had on lives well after was still fresh.
For the first time since 2013, a name was added to the Global War on Terrorism monument during Fort Riley's 9/11 Commemoration Ceremony.
The monument — a small replica of the World Trade Center Twin Towers on a
pentagon-shaped base — bears the names of 214 Fort Riley soldiers who have died in Afghanistan and Iraq since 9/11.
Sgt. Joseph Stifter, who was killed in an accident on Jan. 28 in Iraq, joined the fallen.
"It's very overwhelming and emotional," said Stifter's widow, Melissa, who traveled to the ceremony from Overland Park. "It's been extremely tough. Some days it's hard to wake up in the mornings, but I've got my daughter who's almost three and she's got me through everything."
Staff Sgt. Tyler Enright, who was in the same platoon as Stifter, spoke to media after ceremony about his friend.
"We were pretty close," Enright said. "All of us that were in Iraq were pretty close. He was very loving, very dedicated, and he was a soldier."
Enright, like Stifter's widow, struggled to fight back tears.
"I know he's looking down on us and he's happy," Enright said before his emotions overwhelmed him.
Brig. Gen. Patrick Frank, 1st Infantry Division deputy commanding general, was the keynote speaker for the ceremony and delivered an address that honored the names on the monument, along with those who continue to serve in both military and civilian occupations.
"As black smoke poured from the Twin Towers, the selfless actions of our police, fireman and paramedics demonstrated, 'No mission too difficult,'" he said to a crowd that included soldiers, family members, and first responders. "The etched names of each of the fallen are stark, however, what soldiers throughout the division see in these names are acts of uncommon battlefield courage in Afghanistan and Iraq."
This slideshow requires JavaScript.
After the ceremony, Frank — who has commanded some of the fallen soldiers whose names are etched on the monument — said he was glad to see Stiftler's family present.
"Melissa was here with her daughter, Olivia," he said. "Just a great 1st Infantry Division family and we're very glad that they are still a part of our division."
Frank, who was a major for the 101st Airborne in Fort Campbell, Ky., when the Twin Towers fell, remembered that day.
"It was apparent to everybody in uniform that we would be engaged against the enemies of our nation very quickly after that day," he said. "That really steeled soldiers across the U.S. Army — again, all volunteers and ready to move forward to take on the nation's enemies on point for the nation.
"It does feel like it's been 15 years. You see the sacrifices that we've had in the military over the past 15 years, engaged in multiple operations. And our families have truly felt the brunt of that sacrifice. Again, the Stifter family here today, as well as several other Gold Star families. So you do see the impact to a division, to an installation like Fort Riley."
Stifter's widow, who was a senior in high school when she saw the first plane hit one of the towers of the World Trade Center, said her community has been a blessing.
"Everybody's been so nice and they've taken good care of us," she said. "They've made sure we're good and they still do. They make sure we're hanging in there.
"(My husband) was a strong man and he was older when he joined the military, but he wanted to be able to help. He was a very caring guy and stood for his country."