A fugitive found in Carbondale is now in the Geary County Detention Center on a $1.5 million bond.
On Aug. 22, Timothy Walter Streit, 37, was located and apprehended by the Kansas Fugitive Apprehension Team at a residence in Carbondale following a week-long investigation conducted by the Geary County Sheriff's Office.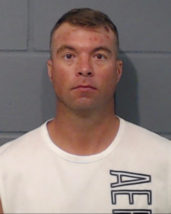 On Aug. 19, a warrant for the arrest of Streit was issued by Geary County District Court, alleging five counts of criminal threat.
This case is linked to a previous investigation of aggravated indecent liberties with a child where Streit is the suspect. That case is pending in the Geary County District Court.
The Geary County Sheriff's Office would like to thank the Kansas Apprehension Task Force, for their assistance in apprehending Streit. The Kansas Apprehension Task Force is a multi-jurisdictional fugitive task force comprised of the United States Marshals Service, Topeka Police Department, Shawnee County Sheriff's Office and the Kansas Department of Corrections.
If you have any information regarding this crime or any other crimes, please contact the Geary County Sheriff's Office at 785-238- 2261. Or call Crimestoppers at 762-TIPS. You may be eligible for a reward up to $1,000.